Flickr is one of several web-based photo sharing websites.  Most people think of photos as belonging to a particular website.  Take for instance the New York Times website, the print edition contains many of the same photos as the onlne version.  The nytimes.com owns the image copyrights.
What happens when you take the pictures and post them to a site such as Flickr?  Welcome to the world of Web 2.0!  I began using Flickr because I wanted a single location to organize and share my photos.   Prior to Flickr, I was dependent on uploading the images to whatever server or media storage solution was provided by the site.  Using two different blog systems (blogger and EduBlogs) and contributing to 4-5 individual blogs meant that I needed a better way to keep track on my images.  By posting my images to Flickr I could still embed photos into my blog posts but now I simply point to the Flickr URL or web address.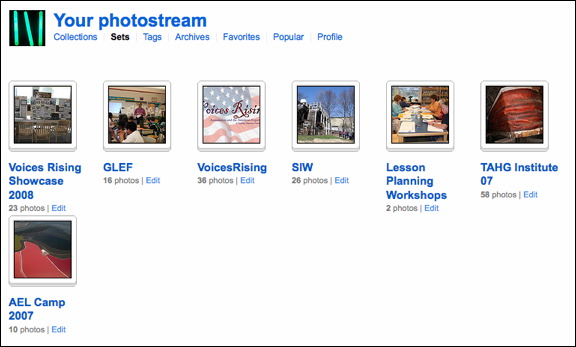 I used the free Flickr account version for a year until purchasing the one year subscription for $25.00.  The primary feature that I needed was the ability to create unlimited Sets.  Think of a Set as a basket that has a name and contains your image goodies.
Slideshows are one nifty feature you can create with Sets using the SlideFlickr tool.  Helpful Tip: Slideshows in Flickr are automatically generated.  SlideFlickr gives you control over selecting sets and customizing the slideshow format.  SlideFlickr is separate website.
Enter Flickr username.
Select Set – add tags to help search engines find your great slideshow!
Select Preview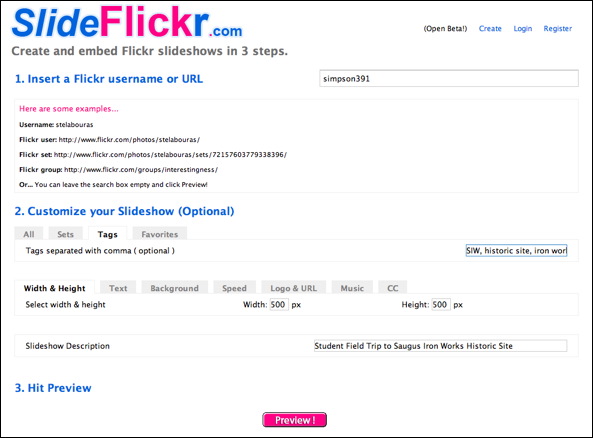 The pop-up preview window will contain the embed code for placing your slideshow on a website, wiki, blog site.  Copy and paste it.  On EduBlogs I switched from Visual to HTML mode to paste the embed code.
Enjoy the SIW slideshow!  Let me know if you found this post helpful.