I watched Nature's The Loneliest Animals over the weekend about the plight of endangered species.  My first thought was that educators have a tremendous responsibility to teach today's students about the facts concerning loss of habitat and the importance of biodiversity.
I've been collaborating with several Ferryway 4th grade teachers on a project-based unit designed to lead students through a set of inquiry-based activities on animals and biomes.  The goal is to build higher order thinking skills in our students as they learn about the link between habitats and animal life.  According to our state (MA) curriculum science standards, students in grades 3-5 record details of the life cycles of plants and animals, and explore how organisms are adapted to their habitats.  In 5th grade, students are assessed on their understanding during the MCAS science exam.  OK wait a minute, you mean students take the high stakes science exam a full year after receiving the instruction.  YES!!!  In fact, an analysis of the questions on the MCAS science exam shows that between 10-15% of the exam deals primarily with animals and their biomes.  Additionally, 1 of the 5 open-response questions usually requires a deep understanding of animals and biomes.  To differentiate our instruction and increase the likelihood of student retention we have incorporated new digital media into our biome lessons.  Where can teachers find good digital media assets that aren't completely off limits due to strict licensing terms?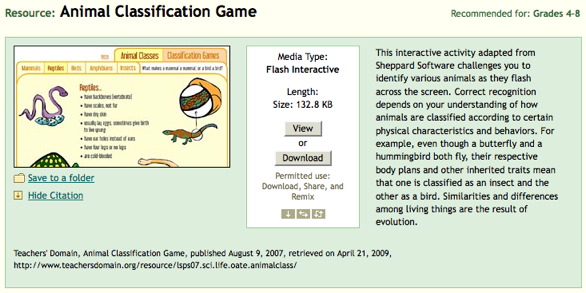 An excellent, free source for high quality digital media is provided by Teachers' Domain. Teacher's Domain (TD) is hosted and maintained by WGBH Boston.  One terrific aspect of the site is the ability to download videos, audio clips, and Flash interactives to your desktop.   In most cases, teachers and students are granted permission to download, share and remix these digital media assets.  I downloaded and integrated a 2 minute QuickTime on Nihoa Island as part of vocabulary lesson (PDF 763KB) using a student response system.  Students watched the clip and were asked which vocabulary words best described the movie.  I think you are beginning to see how useful this can be for teachers.  The interactive Animal Classification Game created in Flash fits perfectly with the goals and objectives of our biome unit.  Students are presented with animals that they must classify as mammal, reptile, bird, amphibian or insect. I also appreciate the citation function that makes it easy to copy and paste the correct reference to the TD resources.
Search Teachers' Domain before you try to create your own interactives or videos.  Register for a free account to gain access to hundreds of digital media assets.  Let me know what you find and how you used it in a lesson.